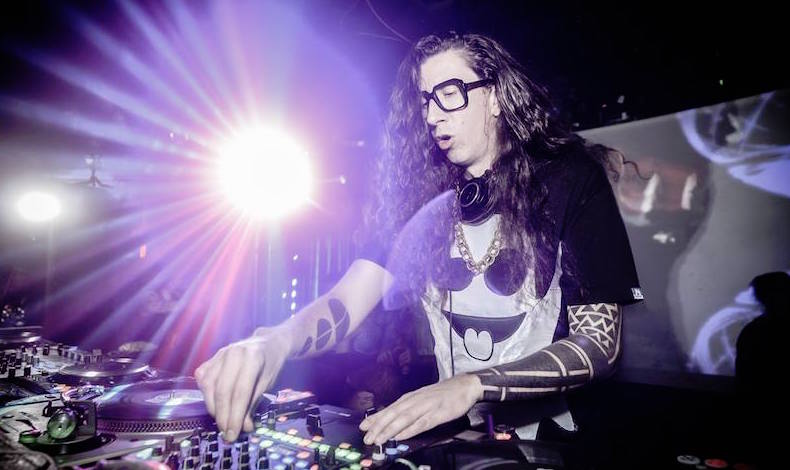 Behind every delicious meal is a damn good chef, and behind an epic night out in Vancouver is most likely: Twisted Productions. With almost 16 thousand likes on Facebook, it's obvious they know what they are doing. For almost two decades, Twisted Productions has been deeply rooted in the foundation of the Vancouver music scene and is at the forefront today when it comes to knee-buckling stage design, brilliant light production, and booking beat-busting artists from all over the globe. Quite frankly, they're absolutely killing it.
Let's be honest, Vancouver hasn't always led the parade for being known as having a raging club scene, but there has always been a strong undercurrent of now world-renowned artists that have been playing in Vancity for years thanks to bookings and shows hosted by Twisted. Since 1998, Azim Virani (Founder/President) and Kraig Docherty (Vice President), along with their team, have thrown well over 1000 different events, averaging about 100-150 per year over the last 18 years. But why the change from parties to club nights? "The transition into club nights was us getting ahead of the licensing/legal changes in Vancouver. All Night Party permits (for the most part) stopped being issued by the city such as laws and bylaws changed, etc. Venues like the Plaza of Nations (now Edgewater Casino) were also closing down and electronic music of all genres moved into clubs like Sonar, Lotus and so on," shared Kraig.

Things have blown up since then for Twisted with thousands of people counting down the days to see their favourite artists at venues like Harbour Event Centre, FIVESIXTY and Celebrities. Twisted is not just known for putting on wicked club nights, but they have a skillset that stretches across the board that allows them to put on a whole spectrum of incredible events.
Recently, Twisted hosted Cirque's 4 year anniversary at FIVESIXTY.  Cirque is a circus entertainment themed series of events which feature live performances including silk aerialists, contortionists, costumed dancers, stilt walkers, and jugglers. "These events transform the venues they are in, and create a truly unique experience." With up to six Cirque events per year, Twisted puts extraneous time and effort to make these evenings a unique blend of both visual and auditory stimulus for it's diverse crowd. Other events include the likes of the longest running 19+ Halloween and NYE events at Science World, where two floors of the massive venues are transformed for over 1200+ party goers.

If you haven't noticed, the sun is coming out and Summer is upon us!  Luckily Twisted has some special events planned. Can you say Boat Party (or 5)!? The Twisted Summer Series of boat events offers an excursion around the shores of Vancouver that defy expectation, let alone meet them… I mean seriously, it's a boat party! In the past, these Yacht parties of 400 people have hosted headliners such as Krafty Kuts, Gareth Emery, Stanton Warriors and Cosmic Gate – talk about a big DJ experience on such an intimate setting.  Twisted has some exciting boat party announcements ahead.
Let's also not forget SoundLab, which was voted "Best Electronic Night" at the 2013 Vancouver Nightlife Awards. This Nightclub series has held performances by Nadia Ali, Sharam, Paul Oakenfold and Headhunterz (to name a few).  Watch Facebook or the Twisted Website to get your hands on tickets that lead to a gateway of unreal music and a boutique style of curated events. When it's Twisted, all roads lead to one hell of a good time. In fact, they've got the lion's share of unreal artists coming to Vancouver in the next couple weeks, check them out:

Harbour Events Centre
April 1st: A.Skillz vs. Skratch Bastid w/ openers Sammy Senior and Dunks
April 23rd: Stickybuds, w/ JPod and Fort Knox Five FT. Q/Dup
Want a chance to win tickets? Check out this video, share it publicly on Facebook and be entered to win a pair of tickets to both shows in April!
So how does Twisted do it? How is it possible to throw successful nights for over 18 years in Vancouver's ever-changing nightlife scene? "The key to having any successful company, including event production and promotions, is a great team or the right people empowered to do the right things. Add to that drive/focus, persistence and caring about why and what you do.  While it is a business, it's not just about making money. I love what we have built in the Breaks and Bass scene.  Building on the legacy of those that came before us.  Most kids these days don't know what "Breaks" is – they come solely to a show based on a headliner.  Step outside your shell and come to one of our April shows.  I guarantee if you like Hip Hop, Funk, Basslines, Drum'n'Bass and Turntablism you will love our shows." says Kraig.
There should be some sort of metaphysical regulation against constantly having the best night ever. And to that, we say Thank You Twisted!
---
WORDS:  Kalisi Luv + Murphy Gold aka The Blondetourage