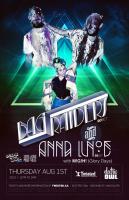 Known for being an eclectic live venue with the ability to create the intimate feeling  of an exclusive top-tier VIP show, the Electric Owl is set to welcome Twisted Productions for the first time on August 1. In an Australian double header, Bag Raiders and Anna Lunoe are ready to leave their musical imprint on Vancouver.
Founded by Jack Glass and Chris Stracey, Bag Raiders have been pumping out quality electro house since 2006. In three short years the duo ranked number eleven on In the Mix's yearly Top 50 Australian DJ's poll – that same year, their brilliant single "Shooting Stars" came in at number eighteen on Australia's Top 100 Hottest Radio Hits.  Not ones to slow down in the face of progress, Bag Raiders' self-titled artist album exploded in 2010, propelling the duo into the country's Top 10 Chart for overall album sales.
No longer confined by the floating isolation of their home country, Bag Raiders are setting their sights on becoming Australia's number one export. Back in the days of band class Jack and Stracey met while perfecting their classical inclinations. With the combined knowledge of piano, cello, violin, and clarinet, Bag Raiders offer the EDM scene a unique stylistic, classical viewpoint.  With musical inspiration ranging from Earth Wind & Fire, The Brothers Johnson, 808 State, and Orbital, Vancouver should be preparing itself for some breathtakingly original EDM.
Alongside Bag Raiders, Anna Lunoe will be working to keep the crowd at the Electric Owl on their feet. Growing up the younger sister in a household of snarly brothers meant that Lunoe had to compete for even one drop of attention. This endless competition with her brothers drove Lunoe to push herself even further into the realm of music: with a limited budget, Lunoe found herself digging through bargain bins, drowning in 90's hip-hop, and experimenting with electronic music. With an eclectic style, she moved through indie dance and rap to up-tempo house and captured the attention of mainstage acts like Diplo, Daft Punk, and Calvin Harris.
With releases on Fools Gold and Future Classics, Lunoe broke into the mainstream, and her 90′s house-influenced collaboration with Touch Sensitive hit number one on the Beatport Indie Club chart – catchy beats abounding, she stayed at the number one spot for three whole months. Recently, The Weekend asked Lunoe to join their North American tour, and she will be performing at the Orpheum in September. Don't miss your chance to see her rock the Electric Owl before she moves into the upper echelons of pop superstardom.
Mark your calendars to celebrate Twisted Production's expansion into the intimate Electric Owl—it's going to be memorable.
TICKETS: www.twisted.ca/bagraiders