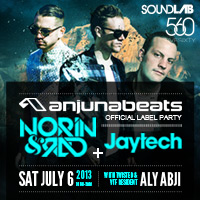 Pre-dating Above & Beyond's musical endeavours, the British record label Anjunabeats was started by A&B members Jonathan Grant and Paavo Siljamäki in 2000. At the time, the duo produced music under the record label's moniker before deciding to change their name to Dirt Devils — and eventually joining with Tony McGuinness to create Above & Beyond. As the group moved away from using Anjunabeats as their stage name, the record label became a world class destination for some of the best trance producers the EDM community had to offer.  
Anjunabeats found its heart and soul on the hippie beach of Anjuna on India's Western Coast in the state of Goa. Widely regarded as one of the birth places of the global trance movement, Anjunabeats endeavours to remain as close to the pulse of trance as the iconic beach which made Above & Beyond's existence possible.  It is with great pleasure that Twisted Productions is able to infuse Vancouver's summer with such an essential trance experience. On July 6, Norin & Rad and Jaytech will touch down for an official Anjunabeats party at FIVESIXTY.
After their smash breakthrough hit "Bloom" took hold of the trance scene, Norin & Rad have become Anjunabeats mainstays. If you have tuned into their podcast (The Remedy) then you are sure to have heard one of their many Anjunabeat anthems: Zion, DeVas, Pistol Whip, and Five Finger Death Punch. With a distinct future-funk progressive trance sound, Norin & Rad are well worth any trance lover's attention.
Add classically trained pianist and brilliant producer James Cayzer, better known as Jaytech, to the mix and Anjunabeats is poised to leave its indelible mark on Vancouver. In 2005 Above & Beyond launched an Anjunabeats sub-label – Anjunadeep – which aimed at releasing deep house tracks that did not necessarily fit under the main label's sunny trance focus. Jaytech embodies Anjunadeep: he lays down mixes with an impeccable sense of rhythm, groove, and just the right amount of flare. As the core tentpole of the Anjunadeep family, Jaytech's productions hold a rare versatile quality which allows them to seamlessly transition from brilliant sets by the likes of legendary DJ Sasha to big room stadium spectacles by Above & Beyond.  
An absolute must for any and every lover of trance, the official Anjunabeats party will be held at FIVESIXTY on July 6th for yet another brilliant installment of Twisted Productions' Saturday mainstay, SoundLab.