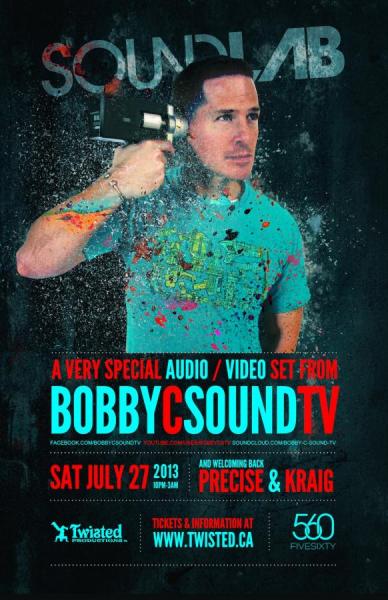 Dating back to our outdoor shows in the late 90's, our numerous club events or the dozens of 4000+ person parties we hosted at the Plaza of Nations, Twisted has been producing Breaks events for over 15 years. We're all about supporting the sound by bringing Vancity not only some of the biggest names in the biz, but the artists and producers whose tracks those big names play.
With recognition from a legend like Afrika Bambaataa, and Krafty Kuts recently calling him "the master of funky Breaks," Bobby C Sound TV is definitely one of those guys to watch. Having DJ'd for 13 years and producing music for 10, Bobby is not new to this game. Combined with his love of movies, music videos and cinema, this led to him to produce crowd rocking audio/video routines with some of the most memorable music, remixes and videos. With wrap-around screens and projectors all around the club, Five Sixty and SoundLab Saturdays is the ultimate venue and night to showcase a remarkable artist like Bobby C Sound TV.
Bobby's music is best described as Breaks, Disco, Nu-Disco, Funk, Hip Hop, Electro and some seriously funky basslines fused together. He's had over half a million plays and 100,000 downloads on his SoundCloud, and another half million video plays on Youtube.
Check out Bobby C Sound TV's live audio / video show on Saturday, July 27th at Five Sixty. Tickets are only $15 and can be purchased HERE.
Also returning to Vancouver from the Philippines is long-time Twisted Breaks DJ and resident scratcher, PRECISE!
Still not convinced, check out some of Bobby C's tunes:
Bobby C Sound TV Jams – compiled by Kraig
Shambhala 2012 set: