The sun was shining, the party people came out in droves, and the vibe was unmistakably welcoming. From start to finish the lineup was consistently talented, energetic and varied—but what was 2014's Monster Energy Center of Gravity's stand out moments? From an EDM perspective they look something like this…
---
CHRIS LAKE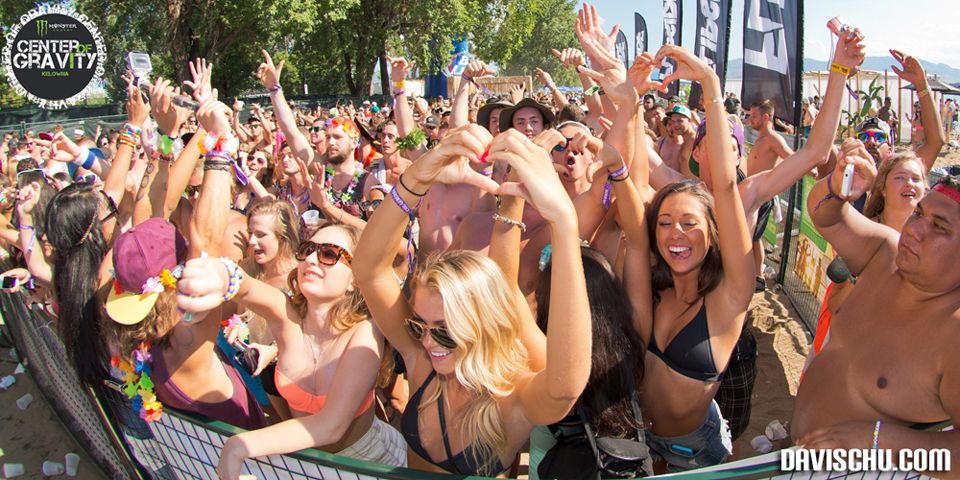 Chris Lake took to the beach stage on the first day for a crowd pleasing set. The mixing was on par, the hits were interspersed with Lake's original productions, and just like that MECOG had started off with a new and improved sense of community driven partying.
---
CALVIN HARRIS
Expectations were high for Harris. As the mainstream kingpin of modern EDM, one could expect creativity to become stifled, however, Harris managed to power through his hits while injecting just enough originality to leave everyone smiling. Kelowna roared along with Harris' now famous battle cry: he doesn't simply interact with the crowd, he screams pumping them full of infectious energy.
---
Providing the festival with its first real WTF moment Torro Torro plunged the beach stage into their twisted jarring world of bangers and bass. Fans of the duo were left ecstatic while those straddling more of a mainstream sound were left surprisingly upbeat.  As bass reverberated off the sand, burns were abundant, beer flowed—and new Torro Torro fans were won over.
---
BRO SAFARI
Saturday was ruled by bass heavy acts. Botnek started the day off with bang, Torro Torro took the skill level to a whole other plateau, and Bro Safari completely obliterated what was already an incredible helping of bass. Expectations were high but the Bro came out with enough energy to share with each and every festival-goer. Providing fans with a solid hour of unrelenting shotgun energy Bro Safari cascaded from one high to the next. It was absolutely fantastic; the Bro truly is a festival king.
---
BORGEOUS
As Sunday's Beach Stage headliner, Borgeous worked the crowd into frenzy.  He may be relatively new, but everything the man touches is gold and the mainstream hoards love it. Mashing together hit after hit coupled with his own slew of Beatport number ones, the main stage had nothing on this big room beach party. Borgeous, the airwaves are yours for the taking!
---
ADVENTURE CLUB
The Montreal duo closed this year's MECOG to an uproarious crowd. The temperature had dipped and the audience's energy was sinking, but that did not stop Adventure Club from laying down a signature set and bolstering spirits back to day one levels.
---
TRACK OF THE YEAR: MECOG EDITION
Botnek's remix of the Chainsmoker's hit track Selfie went off in almost every artists set. Regardless of the style, time of day, or stage—the reaction was always massive.
---
See you all at Center of Gravity 2015!