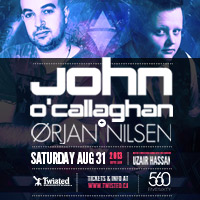 Vancouver's trance scene continues to pulse, unrivaled in its universal language of togetherness and euphoria. Time and time again, trance titans roll through Vancouver and are blown away by how phenomenal the crowds are and how their shows sell out months in advance.
As the summer months trade sun-drenched days for overcast and sporadic showers, Twisted Productions is once again providing the Vancouver trance family with a safe haven. Although consistently providing us with high-calibre trance, Twisted has outdone itself with this particular double header. John O'Callaghan and Orjan Nilsen are both members of Armin's Armada Music family and both DJs have named their contributions to the ASOT550 world tour as one of their seminal live experiences of 2012— these two DJ's are as trance family as they come.
Hailing from a time before trance acts were attempting to release Beatport Top10's, O'Callaghan made a lasting impression on the scene in 2008. That summer he scored his first BBC Radio One Essential Mix (one of only four trance DJs to do so that year), and he debuted in DJ Magazine's Top 100 at #60. The following year he managed to outdo himself by hurdling thirty six places to the prestigious #24 in the Top 100 poll—needless to say, this is a case of a controversial poll rewarding genuine talent.
In an ongoing effort to have more of an impact on the scene he held so near-and-dear to his heart, O'Callaghan started his very own tech-trance imprint, Subculture, on Armin's Armada Music in 2010. Quality means everything to O'Callaghan, and to this day, Subculture continues to serve as his outlet in the ongoing battle to "provide consistency and solid, quality releases" for the trance family.
What makes this August 31st event an undisputed summer highlight is the addition of a second world class trance talent, Orjan Nilsen. Homegrown natural talents are hands-down the best when it comes to raw authenticity—an integral emotional factor for trance diehards—and lucky for Vancouver, Nilsen is as gifted as they come. At the tender age of seven, Nilsen got a keyboard, at sixteen he graduated to a synthesizer, and by twenty-two his unsigned original productions and remixes were garnering radio attention and soaring through clubs all around the world.
Nilsen began 2012 collaborating with Armin van Buuren on Belter, and he capped off the year by receiving a nomination for best break-through DJ at the International Dance Music Awards and placing at #32 in DJ Mag's Top 100.
Both talents continue to show no sign of slowing down their incredible line of original productions, assuring that SoundLab will be nothing but blinding beautiful trance and sticky-sweet summer air on August 31. Don't miss your chance to cap-off the season in style: Twisted is waiting for you, Vancouver Trance Family.
TICKETS: http://twisted.ca/JOC_Orjan