Out of all the genres, why Breaks?  What made you get into the genre?Since the first records that I bought were all Funk, Disco, reggae, Ska & Hip Hop tracks I was always into the beats. I love it when the break comes in on an old funk record, or a hip hop tune with that perfect vocal cut to scratch. I would get 2 copies and practise for hours cutting and scratching. So I am all about the beats. Breaks for me was the natural progression, when I needed something more than just playing out classic Hip Hop. I then got into the studio starting making funky beats & breaks ….. Krafty kuts was born 1997 !!!!
Who have been some of your biggest influences in your DJ'ing and production over your 20 year career?
Well there are a few Jazzy Jeff, DJ Cashmoney, Fatboy Slim, Afrika Bambaataa, DJ Premier, Q-Bert, Cut Chemist, DJ Shadow, Z Trip are just a few. Amazingly talented DJ's I admire, respect and acknowledge for there talents and skills in the art of DJ-ing. Each of these artist has unique abilities that have helped me become the DJ & producer I am today.
Who are the producers and DJ's out there today that are inspiring or influencing you?
A.Skillz, Featurecast, Jimi Needles, Skope, Erb n Dub, The Prototypes, Oliver Helden, Grandtheft, GTA, Diplo, Marten Horger, Beatslappaz, Kill Paris,  Wicked City, Skrillex, Griz, Gramatik, TC, Valentino Khan, Milo & Otis, Netsky are just a small selection of the acts that nestle nicely into my Dj sets at the moment. And getting me pumped up to make some Monsters in the studio.
How would you best describe the style and type of music you're playing today?
It is basically a combination of all things KRAFTY …. Funkydirty, breakbeatparty MUSIC !!!
I love throwing caution to the wind so people can see I am playing live and mashing up all styles. If I make a mistake etc people can feel the energy and vibe and really get into the moment.
I've heard you're working on Vol. 2 of your Hip Hop Podcast and a couple of EP's collaborating with the likes of A. Skillz and Kill Paris.  What new tunes can we expect to hear on July 26th?  More edits or original Krafty tunes?
Loads of new Krafty tracks coming soon on Instant Vibes. Plus a brand new remix I have just finished for Kill Paris coming out on Owsla and also 2 Wicked City remixes of Kill Paris as well. Some cool & cheeky Hip Hop mash up's I have just down for the new Hip Hop podcast 2. Plenty of Krafty edits and brand new breaks tunes from all the major players …. basically more monsters than a Godzilla movie !!
Your Wicked City project broke out on the scene this year.  What is it and what can people expect from it?
Live funk with chunky beats and big baselines. It is basically a concept I wanted to do for years, combining all the elements I love about the music I play and make. I have put it into a live show with all the raw elements. We have only done 1 live show but it was in front of 1,000 people in London and was a whole unique experience. We have about 15 tracks we can do live with a  combination of a few Krafty classics thrown in. It's got a great cast and is building with every week we get in the studio. Featuring Dynamite MC, ErbnDub, Skope, Steve Yamaha, Chris Unknown, DamienSoul
You've won countless awards including Best Breaks DJ three years in a row, being honoured with Outstanding Contribution to Breaks and eight other Breakspoll Awards, what is left for you do or what do you want to do next?!
Every day is something fresh and exciting for me. I am constantly thinking of new ideas with DJ mixes and my live shows with Wicked City. Making my DJ sets more fresh, there are not enough days in the week. Then of course there is writing brand new Krafty music which is first priority. I still have so many goals, ambitions and personal achievements I want to reach so I am constantly pushing myself to go as far as I possibly can. At the the end of the day I am an entertainer and it's what I love so I will try to consistently do this at the highest level for as long as I can.
You travel the world playing Breaks at festivals, club nights and more, would you say Breaks has made a resurgence through subgenres like Ghetto Funk?  Where is the genre most popular?
I think Breaks has always been at the forefront of music alongside House & Drum n Bass etc it's just what's in fashion, popular that sometimes pushes it further down the pecking order. To be honest Ghetto Funk, mid tempo breaks  Glitch Hop.110, all fall under the same radar, genre for me. I have been making this music for a while now and I try to incorporate all these fantastic styles into a unique Krafty set. i think this is what helps make my sets sound different from anything else out there. So to me they all fall under the Krafty genre .. !!
I know you've probably had this question 100 times before, but any chance of you and A. Skillz are getting back together for a collab on an album (Tricky Technology 2) in the next couple of years?
We always talk about this and would love to have time to write a 2nd LP. Unfortunately we both are so busy that it's taking 6 months out to put the whole project together. We both would love to do this and perhaps when the time is right we will make this happen, but for now we just stick to doing a few shows together and make the odd track. But watch this space as we do potentially have 2 tracks in the pipeline !!!
What do you enjoy most about Vancouver?
Vancouver is probably my fav city in the world. I have so many good friends and amazing memories of some of the fantastic shows over the years. But it is such a beautiful vibrant place with fantastic shopping, restaurants and most of all party people who just love funky beats and make it one of the best places to spin.
---
Krafty Kuts will be back in Vancouver later this month to play a three-hour retrospective set powered by PK Sound. See you all on Saturday, July 26th at Red Room Ultra Bar!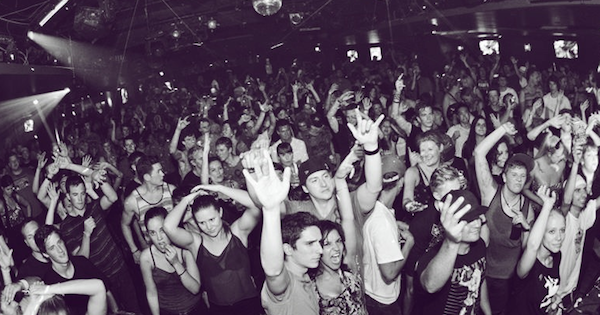 ---