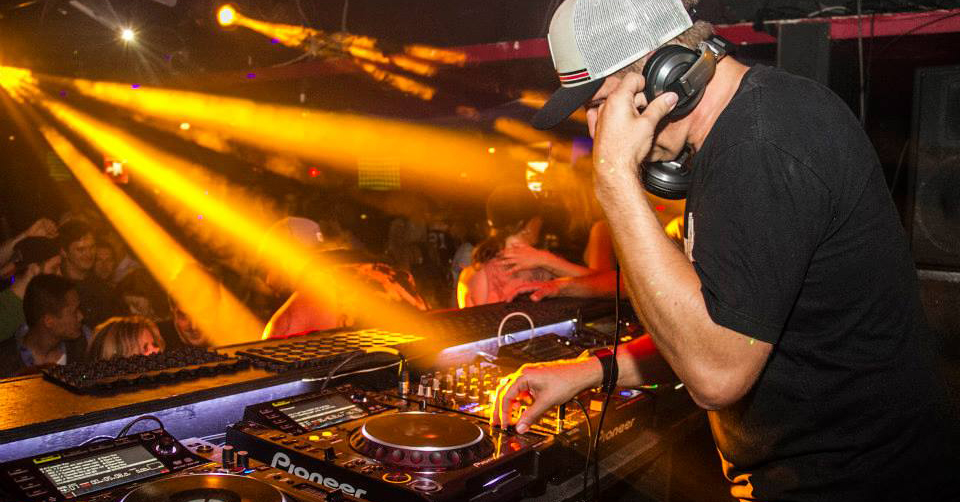 We're stoked for your first ever Twisted Summer Series yacht party on Saturday, August 29th! What an epic way to wrap up the summer. What kind of music can we expect to hear from you?
Been working like crazy in the studio at the moment on all types of genres i.e. hip hop, future funk, breaks, etc. so loads of super funky Kraftyness… More than you could possibly imagine. Super stoked to play somewhere unique & different this time so it's time to bounce, get buck wild on the boat to some new flavours with a hint of some classic Krafty thrown in for good measure.
With the boat being nearly sold out, we're really excited about the official after party at FIVESIXTY. You've always got surprises up your sleeves… What kind of music are you going to play there?
At the club it's all about the bangers hit them with the winners but keep it funky. I have plenty of tunes that have never been played anywhere apart from this show as it's my first stop in Canada so expect more winners than a Steven Spielberg movie.
We've heard you've been really busy in the studio preparing for this tour. Are there any new tunes that have been going off massive in your sets?
So many new tunes from Jimi Needles, Freestylers, A.Skillz, Featurecast, Slynk, Noisy Freaks, Wicked City, Deekline, Ed Solo, Stickybuds, Wuki… Oh the list is endless. It's gonna be a monster-thon!!
What producers / artists have impressed you over the past year that you've incorporated into your shows?
Marten Horger, Wuki, Noisy Freaks, Veschell, and Skope have all been knocking up some serious heavyweight funk.
We're digging your new Funky Jams Mix! Could you tell us a bit about how you approached putting together this mix and why you selected some of the tracks?
Wanted to put a mix together of mid tempo goodness as I felt it was time for people to see the funky side of me again. Plus I have so much good material it had to be unleashed.
A little birdy told us that you'll be dropping an all new Golden Era of Breakbeat podcast in a couple of weeks. Can you share any details about this? Who can we expect to hear on the mix?
Yes, just putting the finishing touches to one of my favourite all time mixes. This should be out just before I hit Canadian shores. So excited to drop this mix as it is basically all my favourite ever Breaks tunes all squeezed into 1 hour. I am very proud of this mix and can't wait to drop it.
Speaking of breaks, where do you feel the direction of breakbeat music as a genre is headed in terms of sound?
It's just getting better & better at the moment. More & more artists & people are getting back into the sound. It is appearing in all styles now and sitting alongside the bigger genres and people are beginning to get the feeling breaks is cool again. Although I would say it's always been that way but you know how trends go.
We know there have been lots, but what's been your most memorable Vancouver show you've played, and why?
So many to think about, but I actually think the last one was probably the best. The place was packed, me & A.Skillz were fully prepared with so much good tunes. It was popping that night. Loved every minute, was amazing to see the reaction to Tricka Technology, Drop, and many others turns we wrote… Memorable.
With already accomplishing so much in your career, what's the next milestone you have in sight?
Getting Wicked City on the map. I have a future funk band which I have working on now for over a year with Dynamite MC, Erb N Dub, Skope, Damien Soul, and Steve Yamaha. We are ready to unleash a ton of material, do live shows and turn the funk up another notch. This is something I have wanted to do for so long and we are ready to drop some serious material over the next few months… Watch this space!!!
Thanks for taking the time to answer our questions! We can't wait to see you at the end of this month. Any last words for your fans?
Vancouver, you know how we party so let's make this another memorable event as I have been working non stop to bring as much funky goodness as I possibly can… See you on the party boat!!
---
Krafty Kuts returns to Vancouver later this month for a special yacht party set on August 29th aboard the Queen of Diamonds!