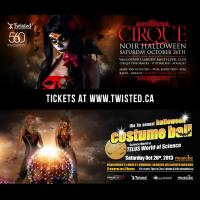 In a local scene riff with all ages events, we're offering the nineteen plus crowd two Halloween sanctuaries—masked dens of gleeful debauchery nestled tight by some of the best beats Vancouver has to offer.
Under the merry gothic glow of orange and green, Twisted is set to host Vancouver's longest running licensed (19+) Halloween massive: the 7th Annual Halloween Costume Ball at Telus World of Science.
Do not miss your chance to turn classic childhood memories into scantily clad adult adventures.  With the vast open layout of the sprawling two storey Science World as your backdrop, anything could happen in a crowd of 1100 provocative, spooked out and otherwise absurdly dressed attendees.
This is all without mention of the two separate rooms of music effectively creating a multi-club experience featuring 8 DJ's within a single venue. Looking for some liquid courage to accidently bump into that sexy ghoul, we're offering up 5 fully licensed bars insuring patrons remain properly lubricated at all times. Most importantly never—ever—underestimate the brilliant allure of the VIP buffet, it may just become you best friend.
If getting weird under a dome of knowledge isn't your cup of tea, Twisted is transforming Vancouver's largest multi-level club, FIVESIXTY, into CIRQUE Noir. As the much darker gnarled little brother to Twisted's Costume Ball, contortionists, aerial acts, dancers, and cirque performers will turn SoundLab's home into a malevolent fantasy world where patrons may lose their restraints and indulge in otherworldly pleasures.
Wandering the bowels of FIVESIXTY, Tiffini Truth—a certified pyrotechnician, grind performance artist, vocalist, and contortionist—will illuminate your imagination. A scantily clad curly haired vixen strapped tight with metal plates while she dances using power tools to send sparks flying off her body in tune to the music: based on sheer creativity this spectacle deserves to be seen. Live performances aside CIRQUE Noir offers 3 floors, and 2 rooms of music thriving with 5 DJ's.
This Halloween enter one of our Twisted Halloween events, don a costume, and let your inhibitions go. Phenomenal live DJ sets coupled with one of Vancouver's most iconic venues and the city's largest multi-level club, either way, you can hardly go wrong.
BUY TICKETS HERE:
CIRQUE Noir at FiveSixty || Costume Ball at Telus World of Science
Check out our Halloween Teaser Mixes here: