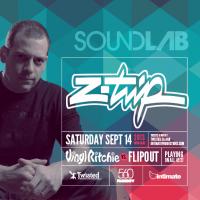 Before the term "EDM" effectively packaged DJ's of all styles into one tidy, misrepresented mass, Z-trip was there – pioneering the art of mash-ups, scratching live, and representing a Disc Jockey in the truest sense of the term.
Today, combining genres isn't all that surprising; it's easy to envision Kanye rapping over the Black Keys, or Taylor Swift singing behind an electro house drop. However, back in 2001 when Z-Trip released his first mixtape Uneasy Listening, the world had never heard anything like it: instead of approaching Z-Trip's mash-up revolution with apprehension, the masses flocked to his inescapably fresh style. That year, Uneasy Listening reached "album of the year" lists in North America's most prestigious music and cultural publications, including Spin, Rolling Stone, Entertainment Weekly, and Wired.
On Saturday, September 14, Z-Trip is taking over SoundLab at FIVESIXTY and offering Vancouver a taste of something different. If you are a newcomer to the scene, take a step outside of EDM's big room house comfort zone and experience Z-Trip's authenticity in a crowd of genuine music lovers. Whether you are a DJ culture veteran or an aspiring dance music aficionado, SoundLab will take you back to a time of purity — before every release contained a 'drop' and musical genres bled into a seamless funk. It is time to come together in the name of rock, rap, funk, soul — everything — and indulge in a dance music tapestry woven by a consummate Disc Jockey.
Z-Trip is ready to remind Vancouver why we all fell in love with this music in the first place, and why there is no replacement for legitimate live mixing.
Grab tickets to the show HERE.